The Way We Were, or Are
Rick Daly and the Villagers
Rick on banjo, Larry Brambrut on six-string and Jim Mancusi on tenor.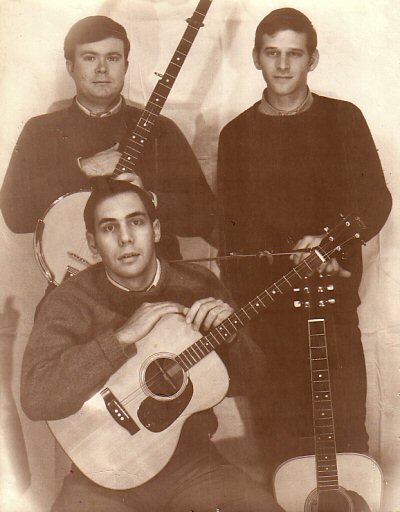 Rick Daly and the Briarmen 1964
Rick Daly and the Villagers 1965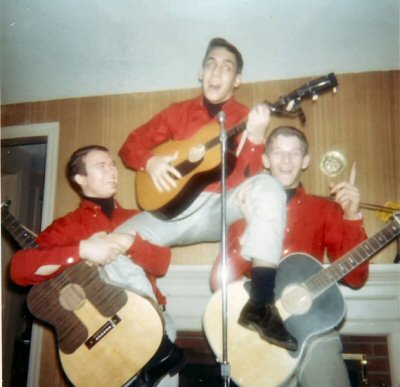 Rick Daly and The Wayfarers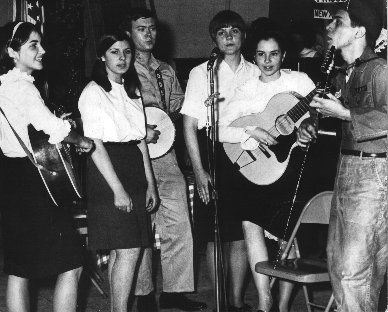 ---
From Brian Quigley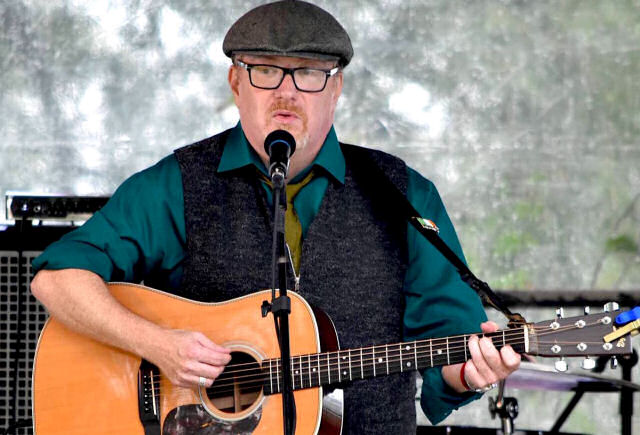 Rosewood Bridge
Jim Dunnigan and Brian Quigley
Brian Quigley and the Dustmen
Left to right, Larry Linton, Russ Scinta, Brian Quigley and Liz Scinta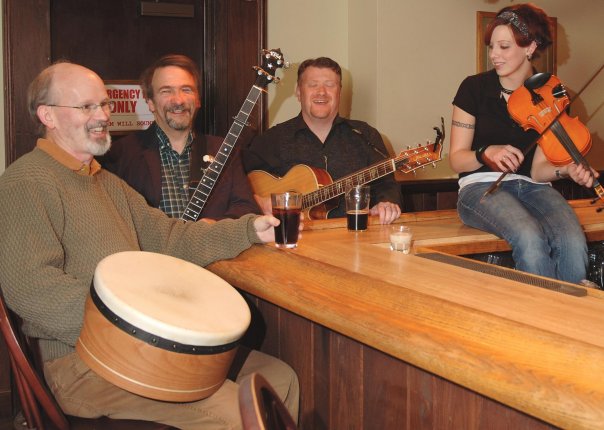 From Terry Collins
The Six Man Trio
Chris, Geoff, Terry, Jessie and Ray
---
From Dennis Ray
The Cumberland Trio, 2018
Tom Kilpatrick, Jerre Haskew, Dennis Ray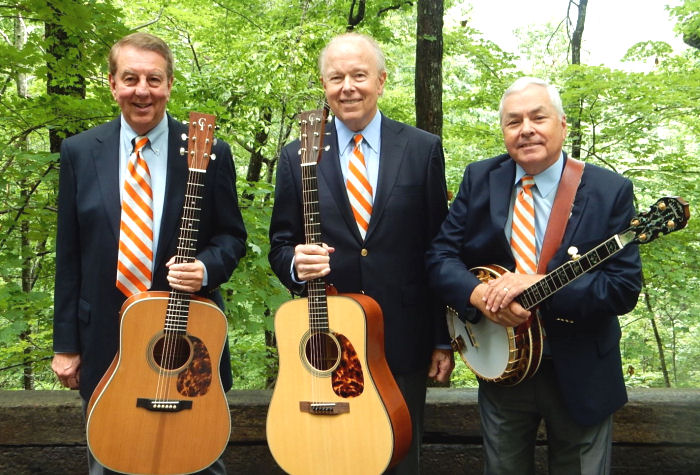 The Chilly Winds, 2018
John Birchler, Bruce Blazej and Dennis Ray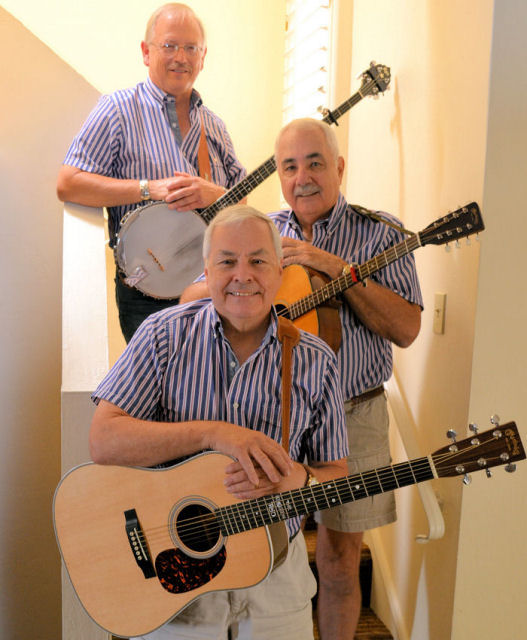 The Countrymen, 1963
Dennis Ray, Billy Edmonson and Steven Slagsvol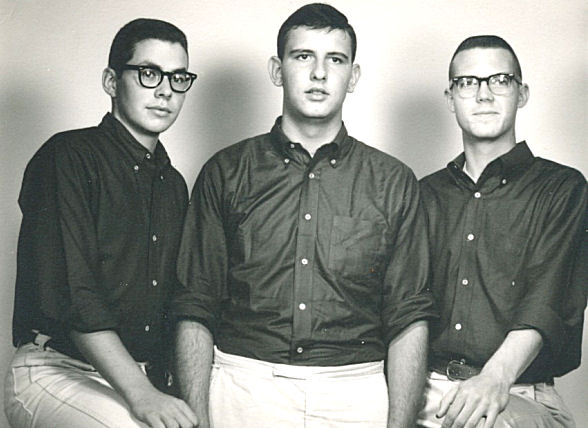 The Herald Trio, 1964
Dennis Ray, Ken Sizemore and Richard Carpenter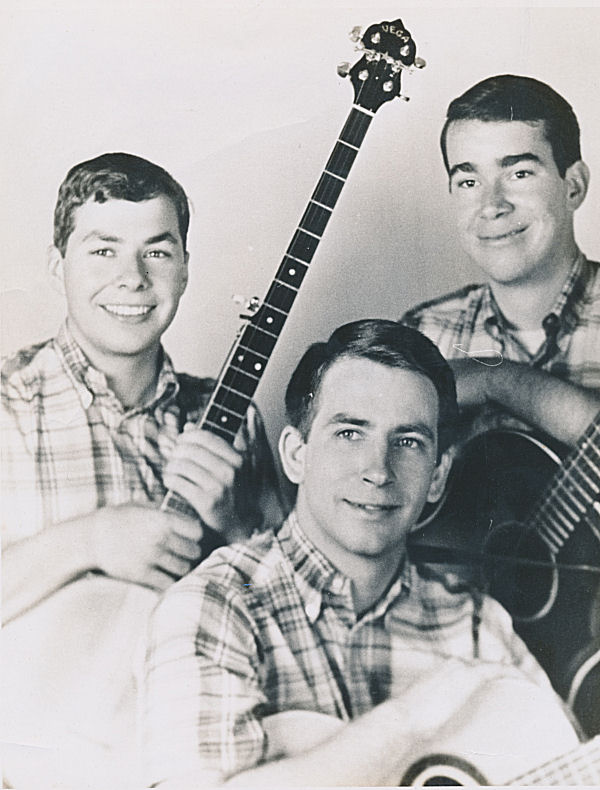 The Herald Trio, 1965
Ken Sizemore, John Logan and Dennis Ray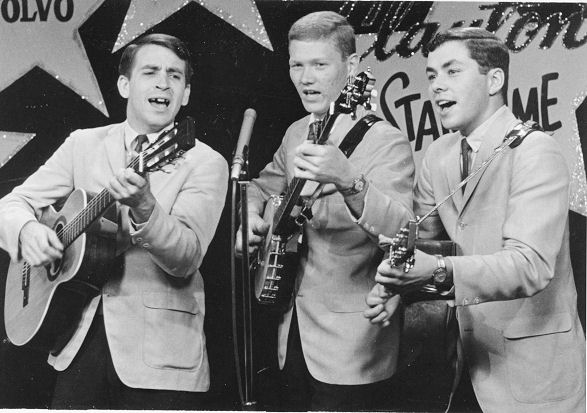 The Herald Trio with Fred Waring, 1966
Fred Waring, Richard Carpenter, John Logan and Dennis Ray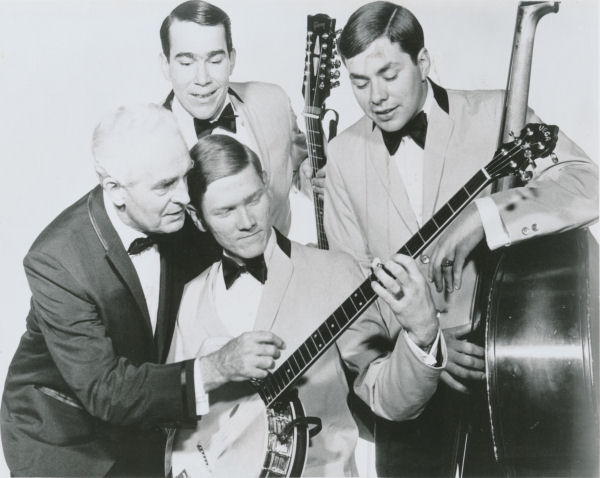 The Herald Trio on the Fred Waring Show, 1966
Dennis Ray, Richard Carpenter and John Logan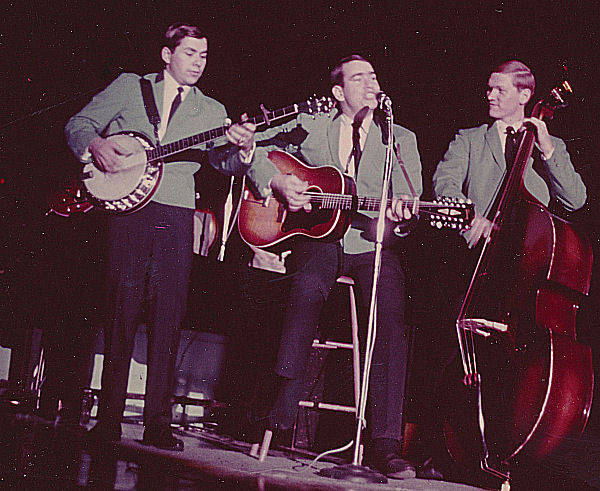 ---
From Steve Harms
The Four Winds
Bill Wolfram, Steve Harms, Wally Kanak and Bob Reberger
From Bobby Haworth
The Kinsmen, 1963
John Eads and Bobby Haworth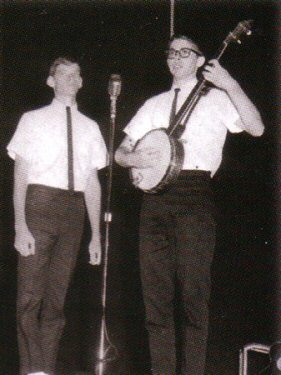 ---
From Father John Caparisos
Pete Polites and John Caparisos
---
The Hitchhikers from Phildelphia, PA.
Left to right:
Carl (Wagoner Lad) Weigand, Ray Duffy, and Joe Passanante

---
From Glen Lees
The Talismen, based in Regina, Saskatchewan, Canada, with me on banjo, circa 1961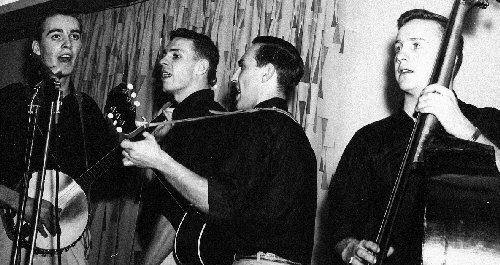 My current group, possibly to be called the Melloclones, based in Waterloo, Ontario, Canada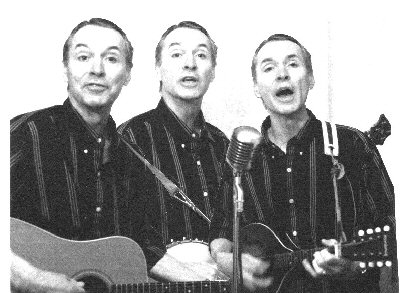 ---
From Jim Fix
The Other Brothers
Jim Fix is on the 64 Martin D-28 (still have it), and Tom Ferrell is on the Vega Longneck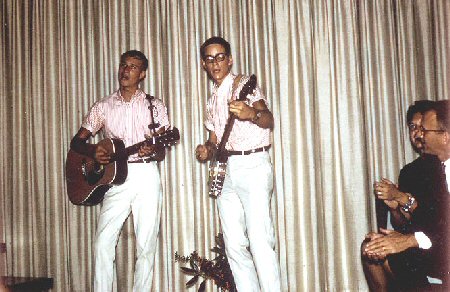 ---
From Bill Crider
Here's a picture of The Fabulous G-Strings. That's me on the right
---
From Tom Lamb
Here's a photo of The Detroit Villagers from 1964. We had been making money for a year and decided to invest some of it back into the group with new instruments. Namely, the 0018 the D28 and the Pete Seeger. It was all too fun and really some of the best times we ever had. From top to bottom Bob Gill, Gary Sullivan, Rick Bowen and (me) Tom Lamb.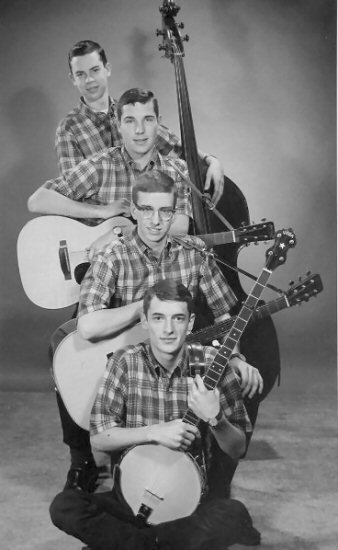 ---
From Jim Moran
Chilly Winds At FC4. L -R Jim Moran, John Birchler, Bruce Blazej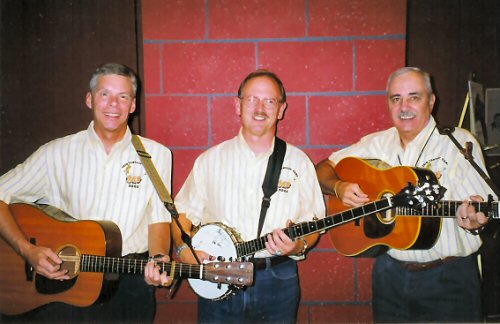 The Richland Trio, c. 1966, playing at The Old Salt Box in Elk Grove Village, Illinois.
L - R: Roy Gorman, Jim Moran, Jack Niemet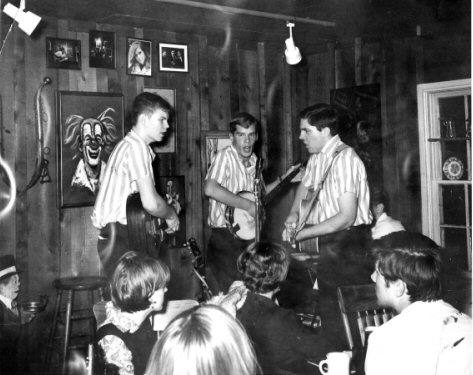 ---
From Rob Smith
The Three Dashing Yahoos, early 90's, in Springfield, MO
Eric Black, Rob Smith, Chris Curtis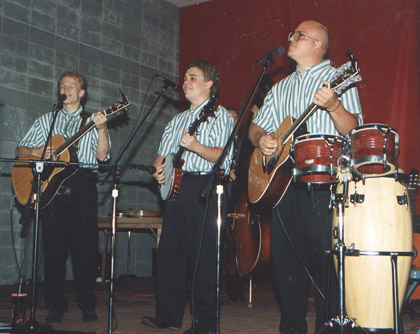 ---
From Steve Cottrell
Brian Gordenev , John Stewart and Steve Cottrell, January, 2005
Steve's group, The Jamaicans, circa 1961
Brian Gordenev, Jon Driscoll and Steve Cottrell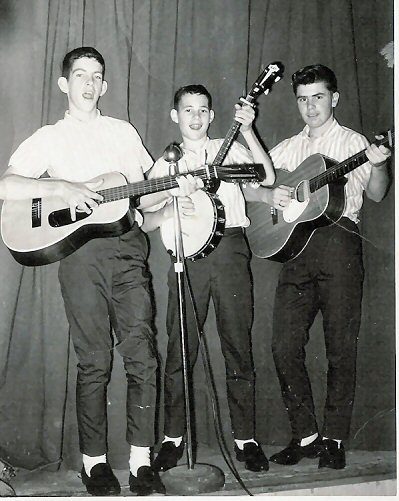 ---
From Mikey Burns
The Hard Travelers, winners of the 1965 All Army Talent Contest singing Tom Dooley and, of course, Hard Travelin'. Left to right, Tom Lehman from St Paul, MN, Jim Perry Jr. from Arlington, VA and Mikey Burns from Del Mar, CA.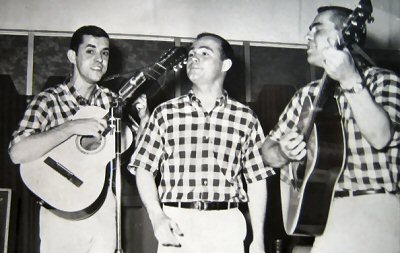 Fantasy Camp V ... L to R is Art Faller, Mikey Burns and David Bezayiff.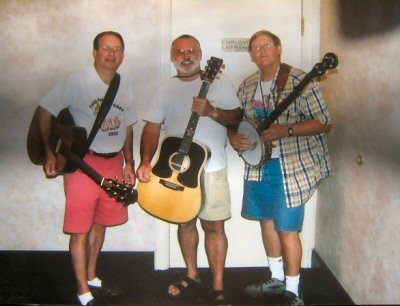 ---
From Terry Shields
Terry's current group, Jump In.
Bottom...... Paul Herzof on harmonica, Paul King on guitar
Top ...... Terry Shields on banjo, Hali Hammer on bass
---
From Rob Reider
Sometimes called The Angel Band, left to right, Dan McHugh, Rob Reider and Greg Amburgy.
---
From Kio, our friend in Japan
The first photo was taken circa 1967, The Reveries.
The second photo was taken about a month ago of
The Reveries with the same members except for the bass.
Name of the current photo are, L to R, Kiyoshi (Kio) Okubo,
Masayuki Takeishi, Kenji Ishikawa and Tsuneo Tahara.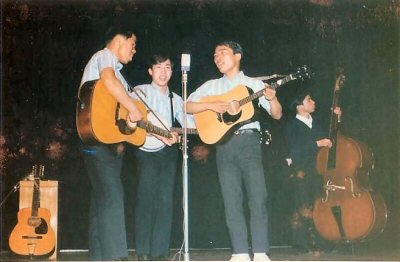 ---
From Mikey Burns
Here's little ol' me standing in with a group called Left Coast. Left to right Mikey Burns, Jerry Gontag on guitar and Tony Irvine on steel drum. This was taken at American Legion post 416, Encinitas, Ca. for our annual Jimmy Buffett party...as a point of interest please note the painting behind us with the MIA/POW flag behind it. That was painted by Drew Cottril, one of our members, and he donated the artwork to the POW/MIA committee for the now famous flags! Cheers and aloha, mikey.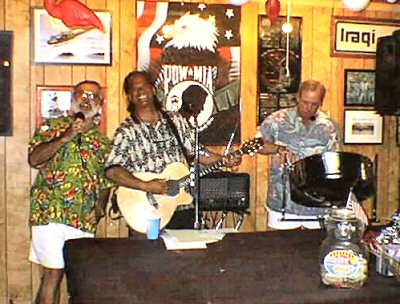 ---
From John Duer
"Forty Years Later"
Left to right, are: Ed Walsh, John Duer, Frank Donahue, and Bill Maschal.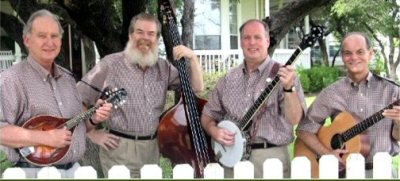 Check out their site at www.fortyyearslater.com
---
Dick Trevathan's group, The Landsmen
Yes folks, these guys had a contract, a released single and an unreleased album!
---
From Jim Snow
"The Sidetrack Trio"
L-R Gary Nielsen, Jim Snow and Tom Florence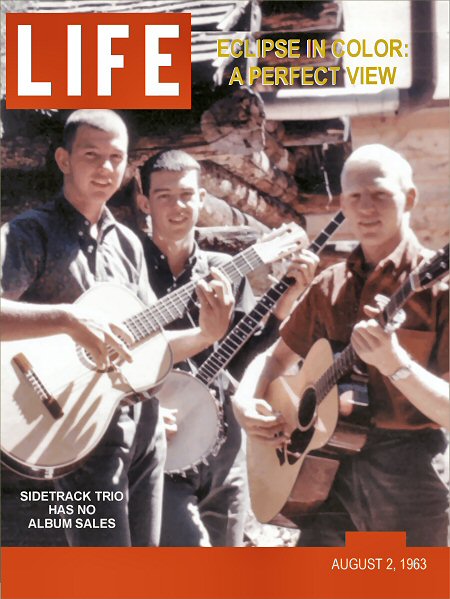 January 31, 2018