Folk U.S.A.
---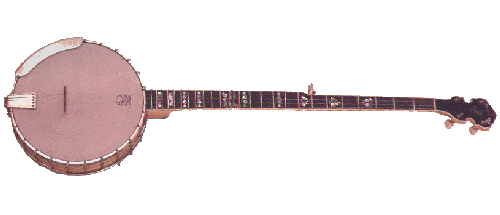 ---
News and Views
Port Washington, NY, 3-18-06
Another great show by the Kingston Trio. This was the first time I saw them since Rick Dougherty joined the group, and these guys have it nailed!
The venue was a cozy 470 seat theater and it was packed. They were sold out and had a waiting list.
I got backstage for a while and spent a nice half hour with George, Bill and Rick. I've known George for some years now, and met Bill and had dinner with him and George a year-and-a-half ago. But other than saying hello to, and getting Rick's autograph twice during the This Land Is Your Land tours, I really didn't know him. I quickly found him to be a very warm, friendly person. He had great stories and a charm that fits right into the Kingston Trio mold. I wasn't sure what to expect, but I was very pleased at what I found. Rick Dougerty is easily one-third of the Kingston Trio. We then went to our seats and awaited the opening chords of the show.
Then the show started. Here's the playlist:
Corey, Corey
Tijuana Jail
Early Morning Rain
Greenback Dollar
MTA
Bimini
Long Black Veil
Shape of Things
Maria
Reuben James
Rev. Mr. Black
Intermission
Road to Freedom
Oh, Miss Mary
Chilly Winds
El Matador
Zombie Jamboree
All of the Hard Times Are Gone
Scotch and Soda
Tom Dooley
Worried Man
Encore:
Where Have All the Flowers Gone
I'm Going Home
What a show! It is so good to hear some of the "old" songs being brought back into the show. Bimini rocked! Long Black Veil was right off New Frontier. George has John Stewart down Pat! I couldn't stop laughing at Shape of Things even though I've known the song for 40+ years. Rick and Bill did a great job singing to George's madrigal guitar playing. And their hand gestures were funnier than hell. The only thing I missed was the kiss and the lights going out ala Bob and Nick. Maybe they don't know each other well enough yet? Maria tore the house down.
The second half opened with Road to Freedom, one of my favorite Stewart era songs and another one I'm so glad has been resurrected. Zombie Jamboree is one tune I could live without after all these years... but, they brought so much new energy to it, it seemed new again. All of the Hard Days Are Gone is already a classic Trio song. Scotch and Soda was, well, bittersweet. You all know what I mean. Bill did a great job. But there's only one guy that should be singing that song. Hey, if Sinatra felt that way, I guess I can. But the crowd appreciated it. Hell, it's the most requested of all Trio songs, right?
All the rest of the set was played in true Trio fashion and the show rocked from start to finish. The harmonies were dead on. Rick hits the high notes, no doubt about it. And it's all so smoothe. And it was very obvious that they were all having fun up there on stage. The chemistry is there, no doubt about it. I can see this Trio playing for many more years and turning yet another generation into fans.
The songs I didn't specifically mention were, as always, well done. But they're mainstays of Trio shows so I can't see commenting on them. This was a great night. And I wasn't aware until tonight that they'll be back in Long Island in August, so it looks like this a Trio x 2 for me.
The night ended with a photo session and some more great chat with George, Bill and Rick.
Well, that's my review. Hope you enjoyed the review as much as I enjoyed the show. If you get a chance to see them, don't pass it up. The Kingston Trio, even without Bob Shane on the road, is alive and well, and here to stay!
Picture from March 18, 2006
Bill Zorn, myself, Rick Dougherty and George Grove
---
The UConn Show 4-8-05
My lifelong friend, and former band member and tenor player, came along with me. It was about a two-and-a-half hour drive, thanks to a typo in Mapquest. I somehow replaced the town of Manchester, CT with Mansfield. Same part of the state but not eactly close. That and Friday night rush hour made for a long drive. But we finally arrived, had a bite to eat and made it to the venue, which was the Jorgensen Center, a beautiful venue set up in a cabaret style. I've lost my sense for estimating crowds, but I'd have to say most of the 1,500 seats were taken. It was a large crowd. Actually the biggest venue I've seen the Trio at in a while. And I was pleased to see so many people there. Shortly after we sat down, two delighful ladies took the other two seats at our table. More about that later.
We had a backstage invite, but when we went there, George and Bobby were out getting a bite to eat. We met Bill, and also Bob Flick and Mark Pearson of the Brothers Four. We chatted a bit, then went to find our seats.
Glenn and the Folk Reunion opened. Their play list was:
Old Folksinger
There's A Meeting Here Tonight
Hey Jimmy Joe John Jim Jack
Whistling Gypsy
Killed By A Coconut
Rock Me Grandpa
Power and Glory.
Glen was in great voice except when he talked. I spoke to him at intermission and after the show and he said he still had remnants of the illness that went through the entire ensemble a month or so ago. But they were good! It's the second time I've seen them since November and it was a thrill the second time.
Glenn then introduced the Brothers Four. This was a real treat because I have never seen them perform before. In fact, other than listening to their music all these years, the only time I ever saw them other than in pictures or on album covers was last year when Hootenanny Hoot aired on TV. The sound great. Bob Flick is the only original remaining member, though Dick Foley is part of Glenn's Reunion. Their setlist went as thus:
Gilgarry Mountain
Try To Remember
Tie Me Kangaroo Down Sport (Really got raves!)
A ragtime banjo interlude with Mark Pearson doing a great job on the four string. I couldn't tell if it was a tenor or plectrum, but he played the hell out of it.)
Green Leaves of Summer
Man of La Mancha Medley
Greenfields
Train Medley:
City of New Orleans
Blue Water Line
Wabash Cannonball
Rock Island Line
A great set. These guys sound terrific. I hope to get to see them again. I wouldn't mind seeing an all Brothers Four concert someday.
Then came intermission. And back to the two ladies that joined us. My buddy and I had, of course, been singing along with everything (possibly to the annoyance of those around us?) When intermission came, one of the women complimented us on our vocaling. My friend asked her what group she came to see the most. She replied "Oh, probably the Brothers Four, since Mark Pearson is my husband.) Ha, what a chuckle I got out of that. It was Mark's wife Pat and her daughter Lindsay. Was sat and chatted during the break. They were lovely and gracious. It was a pleasure meeting and talking to them.
Then came the second half and the Kingston Trio. Here's their playlist:
Corey, Corey
Tijuana Jail
Greenback Dollar
Bimini
Merry Minuet
MTA
All Of The Hard Days Are Gone
Tom Dooley
Where Have All The Flowers Gone
Worried Man (the three banjo version)
They were excellent! Bills voice really booms! The only thing that surprised me was that George used a regular, resonator banjo. No Banjosaurus or Vega. I asked him about it after the show. He told me he had needed a new travel bag for his long neck case. He ordered a new one, but when it arrived, it was an inch and a half too short, and he couldn't get it on the case, so he had to resort to the other banjo. Who says size doesn't count? I was surprised that I could hear such a difference between the resonator and what I was used to hearing from the long neck, open back. But it didn't affect George's virtuosity at all. They were all in good voice and really rocked the hall.
Glenn then joined them for America, and the rest of the gang came out for the finale of This Land Is Your Land. It was well worth the drive!
After the show, everyone was out in the lobby signing autographs, selling music, and hobnobbing with the fans. After the crowd thinned out, George and Bobby were gracious enough to stay and spend some time with my buddy and I, as we were supposed to see them backstage, but missed them. I know it's been said here over and over, but these guys are just so down to earth and make you feel so comfortable. It was like I was talking to old friends, which in a way they are. I just can't get enough of them on stage or off. Guess my wife is right. I'm a 57 year old groupie.
Another nice surprise was to see the Trio in the old style, "official" attire. They wore brown and white striped, button down, short-sleeved shirts. Looked like they were right off an old album cover. I mentioned this to George and he said that Bob Shane had actually found them in his closet, and who knew how old they might have been. They looked good in the right shirts though!
It was a good night. I've never not enjoyed a Kingston Trio concert. I know some people aren't satisfied with what they hear, but I'll go see them anywhere, anytime and I know I will enjoy myself immensely. Thanks again for a good show George, Bob and Bill. And the same to the Brothers Four and Glenn and the Reunion. You guys are ALL a class act.
---
Another great night: November 19, 2004
I'm still on a natural high. I just got home from the Tilles Center of Long Island (NY) University where I had the pleasure of seeing the This Land Is Your Land show. Extreme! What a good time! I spent the afternoon and evening with the guys, and in retrospect, I have to admit my wife is right. I'm a 57 year old groupie! I had a ball!

Bobby invited me down as his guest when he heard I was going to try and get to the show. It's only an hour ride from home and it was well worth it. I met Bobby at their hotel. Actually, in George's room, where George and Bobby were rehearsing a tune for their Christmas show. I won't say what it was, but it was George on the guitar, and Bobby on the banjo and it sounded great. Those of you who can make the Newbury, SC or the Cheyenne WY shows are in for a treat. These are the only two Christmas shows, that is, shows with tunes from Last Month Of The Year that they're doing. I wish I could afford air fare. When they got through, Bobby handed me George's banjo and I got to play it a little. But what do you play when you're in the presence of The Master? I did a little Reuben James, Bonney Hie'lan Laddie and... Foggy Mountain Breakdown. But I won't be quitting my day job.

But I walked in the door to George's room and saw music being played as music SHOULD be played. In bare feet! Casual. Relaxed. I asked if I was interrupting, and was told "Not at all. Just sit down, and shut up!" I did just that! I couldn't believe I was watching a rehearsal! "These guys practice?" I thought? Well, I guess that's why they sound so good. And they do!

After a while, everyone decided we were hungry, so we went across the street to a little Italian restaurant for a bite to eat. George and Bill were already there. It was my first time meeting Bill. And within a half a minute, I felt like we were old friends. He, they, made me feel so comfortable. Bill was born in Connecticut about 20 minutes from where I live, so there was a common thread right off the bat. We had a nice meal and chatted. I tried to stay away from "shop talk" but it's tough to do when you're sitting with your idols. And I'm not ashamed to call them my idols!
After dinner, I waited in the lobby while they changed, and as I waited, Glenn Yarbrough and Dick Foley came out to the lobby waiting for their ride. I tried to be cool. You know..."Hey, how ya doin?" But inside I'm thinking "Wow, I grew up listening to the Trio, the Limeliters and the Brothers Four, and here I am, in the presence of all three (so to speak). I was like a little kid. Yeah, I spent a year in Nam, 25+ years as a cop, and I'm still in awe, reduced to a babbling groupie (my wife is right!) But wow, and the show hasn't even started yet.

They all got into vans, except Bobby, who I drove in my car, to go to sound check. I sat through that, then just hung out for an hour-and-a-half with them all backstage. I watched rehearsals, listened to banter, jokes (most of which I can't repeat here ;-) ) and had a great time. They made me feel right at home. And here, I publicly thank them for that.
Oh, while backstage, doodling around on different tunes, I watched Bill unveil his new Martin twelve string. He just got it. George and Bobby hadn't even seen it yet, and I was there for the unveiling. It's a Martin J-12-15. A beautiful guitar, It's all mahogany, no, um, what's the term (I came home and poured a glass of brandy) purfling? Is that it? No trim around the body. Just pure mahogany. It looks beautiful, and it sounds great. He used it for the first time during this show. And Bobby asked if he could use it on Mariah, which he did. And it's not even expensive! I might have to look for one myself.

On to the show!
Glenn Yarbrough and the Folk Reunion (Dick Foley and Rick Dougherty) started things off. Their set list was:
Old Folk Singer
There's A Meeting Here Tonight
Hey Jimmy, John, Jim, Jack
Gilgarry Mountain
Whistling Gypsy
Greenfields
1927 Kansas City
Killed By A Coconut
Rock Me Grandpa
Power and Glory
Baby the Rain Must Fall
I Didn't See the Time Go By.
They were well received, and at 75 years old, Glenn can still belt out a tune! And Dick Foley sounds great. I got a chill hearing him do the solo break on Greenfields. Just like 40 years ago!
Intermission:
Then our guys came out. The set list went like this:
Darlin' Corey
New York Girls
Greenback Dollar (Bill on the 12 string)
Bimini
Where Have All the Flowers Gone (Bill on the 12 again)
MTA - with an intro about the Boston appearance, and the expected good natured boos from the Yankee fans!
El Matador (yep, 12 string)
Long Black Veil
Tijuana Jail
Merry Minuet
Mariah (Bobby's solo, and he played the 12 string on it)
Tom Dooley
Worried Man (the three banjo version, Wow!)

Glenn, Dick and Rick then joined them on the stage for the finale of America, America, and This Land Is Your Land.

A great show. And of course, meet and greet afterwards. Just a wonderful time.

A couple of anecdotes: The banjo Bobby played during A Worried Man was a Gold Tone BG Mini, with an 8 inch head, and overall length of 31 inches. A tiny banjo! Quite interesting, but it held it's own against Georges Deering Vega and Bills borrowed banjo. He used Rick Dougherty's which I believe was a Fender?

And I saw the list of tunes that they're looking to resurrect from the old Trio repertoire. In fact, I actually got to pick a couple for the show, after the "necessities" were put on the board. Some great stuff forthcoming for future audiences! Sorry, I didn't think to write them down. Remember, I was in La La Land while I was backstage. I did see Coming From the Mountains, Pulling Away, and Run the Ridges. But that's all I can remember.

After the show, there were some pictures, and autographs, then goodbyes. It was just a great night. And I can't thank them all enough, George, Bobby, Bill, Glenn, Dick and Rick, for their hospitality. I felt right at home. If you get a chance to see the show, do yourself and favor and do so. I'm here to tell you, the Kingston Trio is alive and well. And while we all miss Bob Shane, Bill Zorn obviously moved right in and never looked back. I took a few pictures. Not that many, as I didn't want to intrude. And sorry if I rambled, but you know how it is coming down from a folk music high!
Peace!

Pictures from November 19, 2004
| | |
| --- | --- |
| Backstage Practice | Glen Yarbrough and I |
| | |
| Three Richards: Dick Foley, Rick Daly and Rick Dougherty | Bill Zorn, George Grove, myself and Bob Haworth |
| | |
---
A Dream Come True
Once in while in everyone's life, they have an event that's a dream come true. In all honesty, I've had a couple. But I'd be hard pressed to top Saturday, October 6, 2001. It was the day the Kingston Trio came to town. My town. And it was a day and night I'll never forget. First of all, forgive me if I sound like a groupie. The truth is, well, I'm a groupie. And old groupie to be sure, but a groupie none the less. The Kingston Trio are my heroes. I've never been shy about admitting that fact. I've been their fan since Tom Dooley was the number one tune in the country. Hey, they're the Beatles of folk music. They opened the door to that genre of music back in 1958, and it's been going strong ever since. How many groups, what we'd today call "garage bands" did they spawn? I had one. They showed us it was cool to unplug guitars at a time rock and roll ruled the airwaves. Even learning the banjo was no longer a strange thing to do. They turned Friday and Saturday nights at college campuses across the country into hootenannies. Hootenanny even became a prime time TV show. And in my way of thinking, they made it possible for artists such as Bob Dylan, Joan Baez, Peter, Paul and Mary, John Denver, Gordon Lightfoot and so many others to launch successful careers. The Kingston Trio came along, and the folk boom was born. And I for one am thankful.
So, October 6th, was my Union's annual benefit concert. I'd been trying for years to get them to book the Trio. Well, this year they did. And I was involved from the git go. We started planning the show back in January. I got to talk to Bob Shane around May to start the ball rolling. That in itself was a thrill. He e-mailed me his phone number and just said "Call me". Had I heard right? Well, I called him and got things started. What a thrill. I was a nervous wreck dialing his number. And there was no mistaking his voice when he answered. I was talking to Bob Shane on the phone. But he sent out the necessary paperwork and things were underway. From then on, I was like a kid waiting for Christmas. I thought October would never get here. Then, it was upon me. And I knew I was in for the thrill of a lifetime.
The Kingston Trio was picked up at the airport by a professional car service and taken to their hotel. Shortly afterwards, I drove to the hotel, picked up George and Bobby Haworth and brought them to the venue, a middle school we use, for the sound check. We chatted on the way there and back, and they made me feel very comfortable. We managed to talk about things other that the obvious Kingston Trio topics. I hung out while they got the mikes and amps and speakers right. I never knew how much was involved with that. During a lull, I asked George if he could show me how he played the guitar break for his song Darlin'. He immediately went into a personal performance of the tune for me. He and Bobby then worked out their duo on the saw, America the Beautiful. Then I got really gutsy. I had found a guitar in the music room adjacent to the stage, and asked George and Bobby if i could stand with them at the mikes and have our picture taken. They graciously said yes. So I stood there, at the center mike, where Bob Shane would have been, waiting to have the picture snapped, when Bobby said "So what do you know?" An invitation to play with them? Okay, I froze. Yup. A dream come true, and I locked up like a rusty gate. I said I wouldn't presume to try and keep up with them. But then suddenly. in a moment of sheer madness, I started strumming the opening chords to Scotch and Soda. They both laughed (politely) then decided to sing a new song they were working on. Well, after a few bars, I started strumming along with them. So, in the end, I stood on stage, at the mikes, and played for a few glorious moments as one third of the Kingston Trio. Well, in my mind anyway! Then it was time to head back to the hotel, so they could eat and rest up. The show was only a couple of hours away.
Just before showtime, I went back to the hotel, and this time drove Bob Shane and Ben Shubert to the show, with another car taking George and Bobby and the instruments. It was actually two separate shows. Seven and nine-thirty. There was an opening act and a comedian. I didn't sit in the audience until the Trio went on stage. But I had another thrill. I got to stand on stage and introduce them at both shows. I even found a short sleeve, button down, striped shirt in my closet to wear. Of course, that wasn't difficult for an old Trio fan like me. In between their times on stage, I hung out with them, chatted, took pictures, and at one point, found myself alone with Bob Shane in the dressing room. We sat there for about a half hour. Just Bob and Me, talking about everything under the sun. The Trio, of course, Dave and John, Hawaii, eBay, swapping jokes, and just having a good old time. I think during this time, George was sitting in the wings listening to the opening act, a folk singer by the name of Chuck Brodsky and Bobby was in the music room playing every instrument he found that wasn't locked up. I could go into how great the Trio sounded, what a good show, and all that. but it goes without saying, especially for anyone who's taken the time to come here and read this. It was just a magic night for me. They were true gentlemen. But then I knew they were,as I've seen them numerous times over the years and have spent backstage time with them. But never like October 6th. After the show, Bob Shane and Ben Shubert hopped in my car again, and we took them all back to the hotel for some rest before their ungodly 6AM flight home. I hope they got some sleep. I didn't. Talk about wound up. But then again, I'm a groupie.
If Bob, or George or Bobby stop by here to read this, all I can say is thanks. Thanks for the other night. Thanks for over four decades of great music. Thanks for so many memories throughout my life. And thanks for being such great guys for putting up with a 54 year old kid who just couldn't get enough of the Kingston Trio. God bless you all.
Be sure to see the pictures below.
---
Pictures from October 6, 2001
| | |
| --- | --- |
| George at the Sound check | Bobby and the saw at sound check |
| | |
| More at the sound check | George, Bobby and me! |
| | |
| Me introducing my heroes | The Kingston Trio on stage |
| | |
More pictures of the Kingston Trio, October 6, 2002
---
Atlanta Georgia and The Kingston Trio
Friday night, May 26, 2000, I had the great pleasure of seeing the Kingston Trio perform along with the Atlanta Symphony Orchestra at the Atlanta Georgia Arts Center. It's a beautiful venue. It was my first visit to Atlanta or to Georgia for that matter. The orchestra, conducted by Jere Flint, was in it's white jacket Pop's mode. The first half of the show was a delightful program of folk music performed by the orchestra. First came Copland's Buckaroo Holiday from Rodeo, then another Copland work, a nice take on the old folk favorite, John Henry. The orchestra then backed up a solo guitarist and the first violin (sorry folks, I didn't catch your names) doing a beautiful Civil War piece by Ungar called An Ashokan Farewell. Next came an English Folk Song Suite by Vaughan Williams. The orchestra finished their half of the show with a great medley of tunes from Lord of the Dance. A nice stretch and we settled back in for the Kingston Trio.
This was the first time I ever saw the Trio with newest member, Bob Haworth, who replaced Nick Reynolds last year, when Nick retired... again. All the best of luck and health to you Nick. I found Bob Haworth to be a very nice compliment to Trio founder Bob Shane and long time member George Grove. He has a nice vocal style, a great sense of humor, and is quite an accomplished musician (after the show, in the lobby, Bob was playing tunes on a SAW! I knew it could be done, but he made that old Stanley or Craftsman sing!) Bob played with the Trio for about five years back in the Eighties, after the untimely death of Roger Gambill. Bob was also a member of the Brothers Four prior to joining the Trio. It was nice to see that while primarily a six string guitar sort of guy, Bob was playing a tenor guitar, which is what Nick played for all his years with the Trio. With this show, I have now seen every configuration of the Kingston Trio, except, sadly, for Dave Guard. Rest in Peace Dave. We all miss you.
The concert itself was standard Kingston Trio fare. I guess we fans have come to expect to hear certain songs, and the Trio provides them. Tom Dooley, MTA, Scotch and Soda, Worried Man and the list goes on. What changes from show to show is usually George's solo, which this time around was Longest Beer of the Night. Bob Haworth resurrected a fun old number from the String Along album, With Her Head Tucked Underneath Her Arm. He was accompanied by the orchestra with music he arranged for the song. George was also accompanied in his solo, and in fact arranged the orchestral music for the rest of the tunes that the Trio did with the full orchestra backing them up. And there were some beauties. Chilly Winds, Jamaica Farewell and Where Have All the Flowers Gone were terrific with the band playing along. Very nice job George. Well done! Hey, how about a song or two from the old Something Special album which had an orchestra with it?
The Trio received the largest ovation I've ever seen them get and came out for two encores, first singing California (I'm Going Home) and then coming back out again, when the audience wouldn't stop applauding, finishing up the night with The Reverend Mr. Black. Another great show by The Kingston Trio.
Afterwards, a large crowd mobbed the table where Trio music was being sold. My friend Larry, who hosted my visited to Atlanta, and I waited until the crowd thinned out, then got to spend some time with George and Bob Haworth. Then, in an unusual move, Bob Shane came out to greet family and friends. We got to chat with all three, get autographs and pictures. As always, it was a real thrill. No, I'll never get over being awed by the Trio. They're a national treasure. A few things I'd like to see happen soon is their induction into the Rock and Roll Hall of Fame (Rock and roll? Why not? They had as big an impact on music as did the Beatles). I also think an A&E Biography show would be a nice tribute. And lately, after having seen made for TV movies about the Beach Boys and John Denver...
There's not a lot left to say. These guys are my heroes. They make great music and love their fans as much as their fans love them. It's always a pleasure to see them perform. And I truly hope that The Kingston Trio will be around for a long time to come.

---
Pictures from Atlanta
Larry, George Grove, Bob Shane, Bob Haworth, and yours truly
| | |
| --- | --- |
| Bob Shane after show | George and Bob Haworth signing autographs |
| | |
| Welcome Bob Haworth to the Trio again | Bob playing the saw. It really can be done! |
| | |
---
A few more pictures of the Kingston Trio
Peekskill, NY, March 26, 1999

| | |
| --- | --- |
| George and Rick at Peekskill, NY | George playing Jocko with my Kingston Trio pick (also shown.) |
| | |
| Bob and Nick signing the label of my Tom Dooley 45 | Getting Bob's autograph |
| | |
| George and his Deering Vega long neck | George signing his CD "Where Have All The Flowers Gone?" |
| | |
---
Yet another good time!
March 23, 2000, at the Turning Point in Piermont, NY. I saw John Stewart for the first time since the Sixties. Last time I saw John perform, he was still a member of the Kingston Trio. The show was great and John couldn't have been friendlier afterwards. I bought a ton of stuff to try and get autographed, and he sat at a table with me and signed everything. A true gentleman and another fan's performer. He can't give enough onstage or off. Here's a picture of John and I after the show.
And one last picture to share with you all, one which became complete when I saw John. Here's a picture which I was lucky enough to get Bob Shane and Nick Reynolds to sign for me in 1999 at the Peekskill show. When I saw John on March 23d, 2000, he signed it (and added a little doodling too) and the picture is now complete. Thank you Nick, Bob, John, George, Dave, Roger, and all the other folks who have at one time or another made up the Kingston Trio. Some have sadly passed on. Dave Guard, Roger Gambill, David "Buck" Wheat, Stan Kaess. We miss you all. But oh, what a jam session we can all hopefully look forward to someday. I'll be bringing my guitar and banjo when my time comes. I just hope you'll all let me sit in on a tune or two.Peace and love to you all.
The Kingston Trio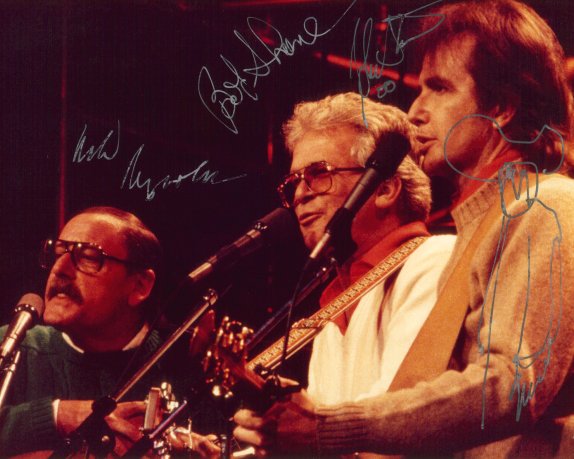 Peace to all who come here!
Rick.

Copyright © 1997, Rick Daly
rfdjr@aol.com
Revised: 04-22-06
---